What is Chiropractic?
Doctors of chiropractic diagnose, treat and help prevent conditions and disorders related to the back, neck, pelvis, extremity joints and the effect they have on the nervous system.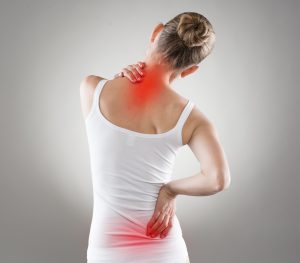 Chiropractic – One of the key components to chiropractic care is to ensure that muscles and joints are functioning correctly. To achieve this, chiropractors often manipulate the joints to return them to their correct position and stretch the muscles to reduce strain. This may be accomplished by using an adjusting instrument called the "Activator" or by a manual hand contact approach known as the "Diversified Technique". The Activator method allows a chiropractor to adjust a patient without twisting them or causing a "popping sound".
Alternatively, we can use a more hands-on approach and adjust the spine by manual methods. This involves a quick thrust by the doctor, producing a pain-relieving clicking sound in your back. Both methods accomplish the same task and the treatment method used is ultimately based on the preference of the patient.
Often, after your adjustment, Dr. Samchuk, Dr. Dolan or Dr. Kochmarski will recommend heat or ice, ultrasound therapy, laser therapy or a water massage table treatment to help relax the areas that have been worked on. This will allow the changes that were made to become long lasting and will serve to alleviate or minimize the return of discomfort.
On their first visit, all patients have a medical history review and receive a physical examination which includes specific orthopedic, neurological and chiropractic tests to properly diagnose the condition. When necessary, x-rays will be utilized to further assess the involved areas.
Shockwave Therapy
A shockwave is an intense, but very short energy wave traveling faster then the speed of sound. The shockwave therapy offered provides a non-invasive therapy that will accelerate healing for a variety of chronic injuries and conditions:
Plantar Fasciitis
Achilles Tendonopathy
Tennis Elbow
Jumpers Knee
Stress Fractures
Calcific Rotator Cuff Tendinitis
Bursitis
Trigger Point Therapy
Non Healing Ulcers
Mortons Neuroma
Scar Tissue Treatment
What to Expect
Patients will typically receive a course of three treatments – one treatment a week for three weeks. Each treatment is non-invasive, causes minimal discomfort and lasts approximately 15 minutes. You can return to normal activity immediately after treatment.
Treatments require no medication
Most people can expect to receive three treatments over three weeks
Improvement within about 72 hours (for most conditions)
Advantages of Shockwave Therapy
Treatments are non-invasive (ie. non surgical) and no medication(s) are prescribed
Treatments are covered by most extended health plans
91% improvement for Calcific Tendinitis (Journal of American Medical Association 2003)
77% improvement for Tennis Elbow (The Journal of Orthopedics' 2005)
90% improvement for Plantar Faciiitis (Journal of Orthopedic Research 2005)
A non invasive, non surgical solution that accelerates recovery from injured tissue, and breaks down scar tissue
CALL TODAY AND BOOK YOUR APPOINTMENT
780-444-7222